CLUBS
At Orleans we have worked hard to build up a wide variety of clubs for our pupils. These clubs either take place before school, at lunchtime or after school dependent upon the particular club and the space available at our school. The vast majority of our clubs are run by external providers, many of whom have worked with us over a period of several years. The clubs are popular and well attended, we know that our pupils enjoy attending them.
Our aim for the clubs which run at Orleans is to give our pupils opportunities to try new activities which may spark a life long love of a particular skill which they may which to continue to pursue outside of school. In addition to this joining a club is a superb way of pupils making new friends within either their class or another year group.
Autumn Term 2022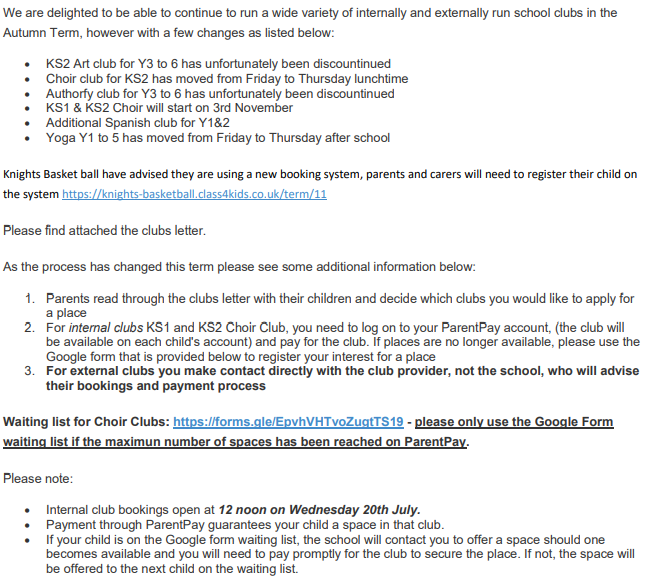 As of the Autumn Term 2022 the external providers are:
Boundless Dance
Crouching Tiger Karate
Richmond Juniors Chess
Technokids
Jazz Hands Peforming Arts Club
Les Coccinelles
Nina Bardowell (Netball)
Richmond Knights Basketball
Samba Soccer
Sew What
Shamsa Haji Yoga
Richmond Gymnastics Association
Music Makers (Richmond Music Trust)
Richmond Rugby Club
Sport Impact - Cricket, Hockey
Pepe and Tete (Spanish Club)
Please find the clubs list letter for Autumn Term 2022 attached below.
FREQUENTLY ASKED QUESTIONS
We hope that your children are enjoying the plethora of exciting extra-curricular clubs that are on offer at Orleans Primary School. We felt that it would be helpful to add some Frequently Asked Questions to help parents/carers and to reduce the number of the same queries regarding clubs coming into the school office.
1. Clubs do not run on the first or last week of term.
2. Please review the clubs list - attached at the bottom of this page - for the latest information regarding clubs. Contact details of all club providers are on the clubs list, please contact the club provider directly. If you are enquiring about an internal club please contact the school office.
3. Home Learning Club is by invitation only – you will have received a letter if your child has been invited to it.
4. Club providers manage their own registers, which are then shared with the school. Parents don't need to advise the school about clubs that their child is attending as we will already be aware via the registers.
5. If your child is attending Energy Kidz after a club, please inform Energy Kidz directly of this.
6. Before school clubs drop off is at the main blue gates to the club provider who will be waiting there. Please don't be late as the clubs start promptly.
7. After school clubs pick up is via the pupil gate on Hartington Road. Children will be brought to that gate, parents do not pick up from the playground. Please arrive promptly to collect your child.
8. We cannot offer refunds for internal clubs if you change your mind. Once you have paid for the club this is non refundable. Children will not be permitted to start attending a club unless payment has been received.
9. If your child is attending the first session of RGA Gymnastics they will be kept in the classroom to change until the club begins at 3.30pm.