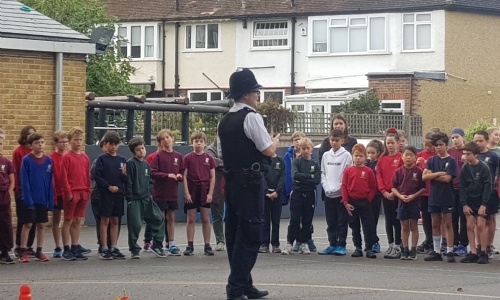 PC Amor, our School Officer came in to visit our Year Five and SIx Pupils and spoke with them about keeping themselves safe, including safety on the streets and The Rule of Six and how it applies to them.
PC Amor visited our school yesterday and talked to our Year
5 and 6 pupils about staying safe when they are out and
about, particularly as it will be getting darker earlier as we
move into the autumn months. He also spoke about the
'rule of six' and how it applies to them. He is always a very
popular visitor with the Orleans pupils and we have
included some quotes from our Year 5 and 6 pupils below;
Basu class - I thought that the assembly was really
informative. He really knew what he was doing because he
has been a police officer for 14 years! He made the rules
clear and I thought his equipment was interesting -Ella
Malala class - "I learnt that if you are walking home by
yourself, like the Year 6s do, then you have to make sure
you get home by the time your parents say." - Amie
Gupta class - Euan - It was good, PC Amor explained about
the rule of six and what to do about the coronavirus.