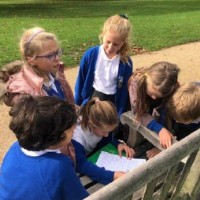 Please enter an introduction for your news story here
Year 4 were very lucky with the weather this week for their orienteering trip to Hyde Park! It was such a fabulous day learning how to use a compass, map and key before setting off on an orienteering adventure around the park. The children learnt how to locate landmarks on an Ordnance Survey map and work successfully as a team whilst they searched for the next clue. Such fun!
Here's what the children had to say about the day:
Kristina: I liked going around and finding new landmarks and facts.
Ela: I liked experiencing new things, such as using clues to figure out the answers to the questions.
Ivy: Before I wasn't very good at map reading but now I am as we practised a lot today.
Harriet: I liked having the opportunity to go around with my team and try to find the landmarks in a huge park.
Aleksander: I enjoyed the challenge of having a time limit as it made it competitive! My team worked really well together and I had a great time!
George: I enjoyed using the compass and learning all the different rhymes for remembering the compass points.
Isabella: I really enjoyed it – I thought it was fun using the compass and the maps.
Juno: I learnt so much! Having a competition and going around the park with a team was exciting!
Scarlett: I liked that it was timed because it made it a fun rush!
Audrey "It was really fun being able to go all around Hyde Park and find different things."
Evelyn "I found it fun because we got to see wildlife such as horses and slug eggs."
Daniel "It was exciting because we were trusted to find our way around and back."
Sam "I found it really fun because there was some pressure to find the way around and back"