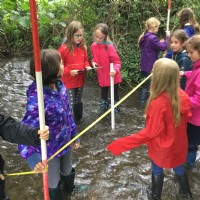 After a good night's sleep (for some…), we woofed down our yummy breakfast and set off on our day's adventures. The itinerary for the day was jam packed with one group doing a river study whilst the others investigated forces and made real gun-powder fuelled rockets!
The river that we carried out our study on was the river Hooke. Our tutors were Kate and Charlotte, who clearly explained many things about how rivers function. We worked in teams to measure the depth of the river at several points and created a river profile. We also tested whether the speed of the flow varied depending on depth. It was cold in the river and most were glad they were wearing their wellies and waterproofs.
Rocket building was incredibly fun and we learned a lot about Newton's laws of motion! Our tutor David was very engaging and we learnt so much from him. Each group made a personalised rocket which we later fired over 100 metres into the sky! Some rockets flew better than others whereas some landed in the trees!
After the afternoon activities, we finished off with some retail therapy at the Hooke Court gift shop.
Dinner was a delicious offering of locally sourced sausages, with all the trimmings. After dinner, we learned more about Dorset's Jurassic history and made our own fossil replicas.
Fingers crossed for a swift journey into dreamland for all this evening! Tomorrow we will be shelter building the woods. Unfortunately, rain is forecast, but at least we will able able to put the shelters to good use! We are looking forward to our final day and returning home to see our loved ones.
Stars of the day are…
All of Room 5 (Zac, Oscar, Inigo, Joseph and Oliver M) – for going to bed last night with no issues. Mrs Prinsloo called them a 'Polite Delight!'
Miss Lane's whole day group (Molly, Violet, Jamie, Keiva, Katherine, Allegra, Freddie, Gabriel, Tess and Rose) – for wonderful work during the river study and impressing our tutor Charlotte.
Dylan – for having a positive attitude and joining in with everything.
Luke – for being an excellent team player and shows good resilience.
Oliver P – for staying on task and motivating the other people in his group.
Anton & Matthew – for impressing Mrs Prinsloo with the scientific vocabulary during the river study.
Lily – for being enthusiastic during activities and sharing her fantastic knowledge during rocket making.
Annabel – for having fun in the river and showing good listening skills.