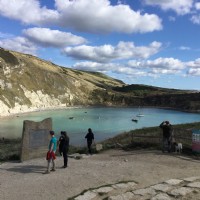 What an amazing first day!
After a traffic free journey down the M3 and M27, we hit Lulworth Cove and enjoyed the beautiful sunshine!
We met our Hooke Court guides for the day, Richard and Charlotte, who gave us a whistle stop tour of the Lulworth Crumple and Stair Hole. We then took on the monumental task of scaling the coastal path up over the headland to Durdle Door. After a quick chance to catch our breath, we headed down to get a closer look at the magnificent geographical landscape. We learnt lots about the local environment including the names of the iconic rock formations and why this area is classed as the Jurassic coastline.
We jumped back on to the coach and journeyed on towards our final destination: Hooke Court. We were all very excited to settle in to our rooms and apparently see as many other people's rooms as possible! After we had a delicious Italian themed dinner, we took on the mammoth task of making our beds! Then we hot footed off to our evening of team building activities.
We are very much looking forward to a restful night sleep so we are ready for tomorrow's adventures!
Stars of the Day are...
Abdi – for helping tidy up after lunch.
Keiva – for keeping Miss Lane entertained on the bus.
Millie – for being polite and interested in the learning of the day.
Seb – for also helping to tidy up after lunch by carrying a large rubbish bag.
Daniel F – for being such a good, kind and helpful friend at the service station.
Turga – for being a good friend on the walk.